This
post
was originally published on
this site
https://i-invdn-com.akamaized.net/content/pic9f208e182c8f16e833b4395d678b4ce0.jpg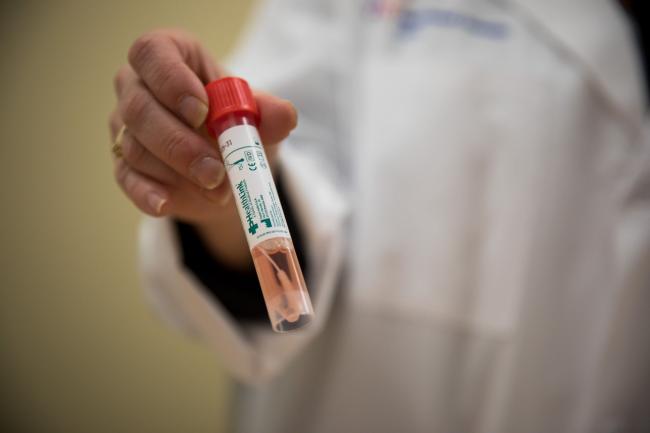 (Bloomberg) — New York City reported two more coronavirus cases, and the first patient was confirmed in New Jersey. The Trump administration won't be able to meet its goal to have a million coronavirus tests available by the end of the week, senators said.
HSBC Holdings Plc (LON:) partially evacuated its London office after a worker tested positive. Fatalities from the outbreak moderated in China, and cases appeared to slow in South Korea. Switzerland reported its first death and infections surged again in Iran, where the virus has now spread to all provinces.
Earlier, an industry association warned the outbreak could cost airlines as much as $113 billion in lost revenue. U.S. and European stocks slumped.
Key Developments:
Global cases at least 96,445; death toll 3,303
Governments in Asia and Europe have pledged $42 billion in budget measures
U.S. House of Representatives approves emergency spending bill
Larry Kudlow says 'we're not going to panic' over the economy
Click VRUS on the terminal for news and data on the coronavirus and here for maps and charts. For analysis of the impact from Bloomberg Economics, click here.
N.J. Has First Case, in Fort Lee (10:15 a.m. NY)
A 32-year-old man from Fort Lee, New Jersey, has been confirmed with the coronavirus, the first in the state.
The patient is being treated at Hackensack University Medical Center, according to Fort Lee officials. It wasn't clear how the man contracted the virus. He is resting comfortably and doing well, the hospital said.
Fort Lee, across the George Washington Bridge from Manhattan, has almost 40,000 residents, many living in high rises along the Hudson River.
U.S. Won't Meet Test Rollout Goal, Senators Say (9:57 a.m. NY)
The Trump administration won't be able to meet its promised timeline of having a million coronavirus tests available by the end of the week, senators said after a briefing Thursday from health officials.
"There won't be a million people to get a test by the end of the week," Republican Senator Rick Scott of Florida said. "It's way smaller than that. And still, at this point, it's still through public health departments."
Cases Increase in France and Netherlands (9:49 a.m. NY)
France reported 92 new cases, bringing the total to 377. There have been two more fatalities, for a total of six, the health ministry said.
The Netherlands now has a tally of 82 confirmed cases, up from 38 yesterday, Dutch news agency ANP reported, citing Bruno Bruins, Minister for Medical Care.
U.K. Regulator Warns Companies Not to Raise Prices (9:45 a.m. NY)
The CMA, the U.K.'s competition regulator, said companies shouldn't raise prices or make misleading claims about products in the wake of the coronavirus outbreak.
"We will do whatever we can to act against rip-offs and misleading claims, using any or all of our tools; and where we can't act, we'll advise government on further steps they could take, if necessary," CMA Chairman Andrew Tyrie said in a statement.
Iran Rejects Offer for U.S. Humanitarian Aid (9:21 a.m. NY)
Brian Hook, U.S. special representative for Iran, told reporters in Paris that Iran rejected an offer of humanitarian aid from the U.S. to help deal with the coronavirus outbreak. Hook said the U.S. was concerned about the health of American detainees in Iran. He added that Iran had misled its people about the coronavirus.
NYC Community Transmission to Be More Common: Mayor (9:15 a.m. NY)
Two more people in New York City have tested positive for the coronavirus, Mayor Bill de Blasio said Thursday morning, bringing the city's total to four.
Neither of the new patients — a man in his 40s and a woman in her 80s — has a connection to travel or any other local cases, the mayor said in a tweet. Both are hospitalized. City disease detectives are tracing close contacts of the individuals and will ensure they are isolated and tested, he said.
"We are going to see more cases like this as community transmission becomes more common," de Blasio said. "We want New Yorkers to be prepared and vigilant, not alarmed."
OPEC Gambles With Move to Cut Before Getting Russian Support (8:12 a.m. NY)
OPEC ministers took a gamble, recommending a large production cut without first overcoming Russian opposition. The cartel is seeking to offset the demand hit from the coronavirus epidemic, which has caused prices to slump.
Coordinated Cut Would Have Risked Panic, Trichet Says (7:53 a.m. NY)
A coordinated interest-rate cut this week could have induced panic and wasn't warranted, former European Central Bank President Jean-Claude Trichet said.
Trichet, who led theeuro-zone institution during the 2008 financial crisis and participated in joint easing with the U.S. Federal Reserve after the collapse of Lehman Brothers, suggested in a Bloomberg Television interview that you can't really compare that episode with the coronavirus outbreak.
Primary Schools in New Delhi Shut (8:31 a.m. NY)
Primary schools in India's capital New Delhi have been closed until March 31 as the government stepped up measures to prevent the spread of coronavirus with the number of confirmed patients across the country jumping to 29 this week.
Virus-Tied Small Caps Rally on U.S. Emergency Funding (7:21 a.m. NY)
Small-cap companies that have touted their potential to treat the coronavirus or prevent its spread are jumping before the bell on the promise of an $8 billion emergency funding package from the U.S. government.
Collapse of U.K. Airline, IATA Warning Stoke Concern (7:20 a.m. NY)
The failure of Europe's biggest regional airline and a dire revenue outlook from the industry's leading trade group stoked concern that the impact of the coronavirus could trigger the collapse of weaker carriers around the world.
Flybe, Britain's biggest domestic airline, was placed in administration, a form of bankruptcy. Soon after that, the International Air Transport Association warned that carriers may lose $113 billion in sales this year, almost four times greater than an estimate it made just two weeks earlier.
While the threat from the virus to Asian airlines has long been clear, its spread has unleashed concern that carriers once seen as safe may now be at risk. With the demise of Flybe, attention in Europe is on debt-burdened Norwegian Air Shuttle ASA. In Italy, Alitalia SpA, already in creditor protection, has been hit hard.
Le Maire Warns Against EU-U.S. Trade Escalation (7:16 a.m. NY)
French Finance Minister Bruno Le Maire said it's even more important for Europe and the U.S. to solve its trade dispute given the threat to the global economy from the coronavirus. He told a French senate hearing that an escalation of tariffs and sanctions would be hugely damaging.
U.K. Confident Brexit Talks to Stay on Schedule (7:10 a.m. NY)
The U.K. government is confident that talks with the European Union on a post-Brexit trade deal will continue on schedule despite the outbreak of the coronavirus, Prime Minister Boris Johnson's spokesman told reporters. Johnson discussed a response to the outbreak with Bank of England Governor Mark Carney and Chancellor of the Exchequer Rishi Sunak on Thursday.
South Africa Reports First Confirmed Case (7:03 a.m. NY)
The patient is a 38-year-old man who traveled to Italy with his wife and returned to South Africa on March 1, Health Minister Zweli Mkhize said. The rand weakened versus the dollar.
China to Expand Stem Cell Trials (6:40 a.m. NY)
China will expand clinical trials of stem cell treatment to confirm if such therapies can be used against the novel coronavirus, state-run Science and Technology Daily said in a March 3 report citing a press conference by the State Council.
HSBC Evacuates Research Department (6:30 a.m. NY)
An employee at HSBC's research department in Canary Wharf tested positive for coronavirus, prompting a partial evacuation and marking the first reported case at a major London bank office.
"The colleague is under medical supervision and has self-isolated," HSBC said. "Based on medical and official advice, the building remains open and operates as normal." Staff on the affected floor are being told to work from home, and the area is being deep-cleaned, the London-based bank said.
Southwest Airlines (NYSE:) Cuts Outlook (6:36 a.m. NY)
Southwest said it experienced a significant decline in customer demand, as well as increase in trip cancellations and expects first-quarter operating revenue to be negatively impacted. U.S. airline stocks dropped after the warning and as Bernstein lowered its price targets on a number of carriers.
Seven & i Said to Scrap $22 Billion Bid (6:11 a.m. NY)
Seven & i Holdings Co. has scrapped plans to acquire Marathon Petroleum Corp (NYSE:).'s Speedway gas stations for $22 billion, ending a deal that would have been among the world's biggest this year. The coronavirus outbreak was one of the factors that impacted negotiations.
Italy Preparing Stimulus Package of Almost 5 billion euros (6 a.m. NY)
The amount will be closer to 5 billion euros ($5.58 billion) than 3 billion euros, Luigi Marattin, a senior lawmaker with coalition Italy Alive party, told reporters on sidelines of a cabinet meeting in Rome later on Thursday. Under a decree signed by Prime Minister Giuseppe Conte late Wednesday night, Italy has suspended sports competitions and closed cinemas. The new measures follow a nationwide school closure until March 15 as the government tries to curb the worst coronavirus outbreak in Europe.
Kim Jong Un Opens Door to South Korea Thaw (6 a.m. NY)
Kim Jong Un sent South Korean President Moon Jae-in a letter expressing condolences over the coronavirus outbreak, in the North Korean leader's first public overture to his counterpart in more than four months.
China Gas Force Majeure Cases Add Up (6:36 p.m. HK)
China National Petroleum Corp. has issued a force majeure on all prompt imports, according to people with knowledge of the situation, the second Chinese buyer to refuse shipments in a sign that global commodity flows may face a sustained impact from the coronavirus fight.
Iran Cases Top 3,500 (6:34 p.m. HK)
Infections in Iran reached 3,513 with 107 deaths after 591 new cases were reported. A health ministry official said the outbreak has spread to all provinces and more than 23,000 people have been tested. The nation closed schools and universities until March 20, leading into a two-week holiday for the Iranian new year.
Separately, Pakistan will complete the quarantine of about 2,600 people near the Iranian border in the next 2 to 3 days.
Countries Ramp Up Quarantine Measures (6:30 p.m. HK)
Japan will quarantine visitors from virus-hit China and South Korea starting next week, Prime Minister Shinzo Abe said. China and Japan had earlier agreed to delay the first state visit of a Chinese leader to Tokyo in about a decade because of coronavirus worries.
Separately, Thailand advised people arriving from countries deemed high-risk for novel coronavirus infection to self-quarantine and Malaysia expanded its ban to visitors from parts of Japan, Italy and Iran due to the rising number of confirmed cases in those countries.